No passado dia 5 de fevereiro foram eleitos os novos órgãos sociais da APEP, em assembleia geral extraordinária, que decorreu no Instituto Superior de Agronomia.
Direção:
Paulo Godinho Ferreira (Presidente)
Inês Duarte (1º vogal)
Selma Pena (2º vogal - Tesoureiro)
Mesa da Assembleia:
Nuno Cortez (Presidente)
Francisco C. Rego (Vice-Presidente)
Ana Müller (Secretário)
Conselho Fiscal:
Vanda Acácio (Presidente)
Francesca Poggi (1º vogal)
Anke Uhlenwinkel (2º vogal)
À nova equipa deseja-se um mandato bem-sucedido.
8 de novembro de 2019
Castelo Branco, Escola Superior Agrária - IPCB, Auditório V

irgílio António Pinto de Andrade
O Seminário "Paisagens Fire-smart. Criando territórios resilientes ao fogo" terá lugar na Escola Superior Agrária do Instituto Politécnico de Castelo Branco, no dia 8 de novembro de 2019. Neste seminário pretende-se discutir um conjunto de questões relacionadas com a abrangência e eficácia da prevenção de incêndios florestais, tendo como base o conceito de "Fire Smart Territory", que representa uma perspetiva na gestão dos incêndios florestais assente numa nova relação das comunidades, organizações e instituições com o fogo, com o objetivo de promover a segurança e o desenvolvimento sustentável. O seminário é organizado pela Escola Superior Agrária do Instituto Politécnico de Castelo Branco em conjunto com a Associação Portuguesa de Ecologia da Paisagem.
Temas
- Modelos de gestão do espaço rural e silvicultura preventiva.
- O ordenamento da paisagem na prevenção de incêndios florestais.
- Sistemas de informação e de comunicações de emergência e sua integração nos processos de decisão.
- Gestão do fogo e comportamento de fogos extremos.
- Meteorologia, previsão e gestão do risco.
- Gestão e valorização da biomassa nos espaços rurais.
Inscrições
Valor da inscrição até 31 de outubro
· Estudantes - 15€
· Membros da APEP - 30€
· Outros participantes - 40€
Valor da inscrição depois de 31 de outubro
· Estudantes - 20€
· Membros da APEP - 35€
· Outros participantes - 45€
O valor da inscrição inclui coffee breaks, almoço, material de apoio, certificado de participação e resumos.
Comissão organizadora
Luís Quinta-Nova (IPCB-ESA, APEP)
Nuno Guiomar (Universidade de Évora, APEP)
Ana Firmino (FCSH-UNL, Presidente APEP)
Paulo Fernandez (IPCB-ESA)
Cristina Alegria (IPCB-ESA)
Nuno Pedro (IPCB-ESA)
José Massano Monteiro (IPCB-ESA)
Luísa Nunes (IPCB-ESA)
Celestino Almeida (IPCB-ESA)
Pedro Lopes (IPCB-ESA)
Data importantes
Submissão de resumos: até 7 de outubro de 2019
Informação de aceitação: até 15 de outubro de 2019
Valor reduzido de inscrição: até 31 de outubro de 2019 (NOVA DATA)
Localização
Auditório Virgílio António Pinto de Andrade
Escola Superior Agrária - Instituto Politécnico de Castelo Branco
Quinta da Senhora de Mércules
GPS: 39º 49' 17'' N; 07º 27' 44'' W
Contactos
E-mail: firesmartland[@]gmail.com
Pedro Lopes: +351 962 354 057
IV Conferência Ibérica de Ecologia da Paisagem
Universidade do Algarve, Faro, 8-9 novembro 2018
A IV Conferência Ibérica de Ecologia da Paisagem (IV CIEP) pretendeu dar continuidade à colaboração ibérica em Ecologia da Paisagem cujo último encontro foi em 2016 em Cáceres, identificando linhas de colaboração e de trabalho entre as comunidades científicas dos dois países, e dinamizando e incentivando a Ecologia da Paisagem enquanto disciplina e enquanto ferramenta. Após decorrido algum tempo da emergência desta disciplina na Península Ibérica (anos 90), é necessário continuar a contribuir para o amadurecimento desta matéria. Neste contexto a realização destes encontros revela-se muito importante para este objetivo, assim como para envolver investigadores e profissionais a trabalhar nesta área, e impulsionar a investigação aplicada à resolução dos crescentes desafios que se colocam às comunidades ibéricas face aos fenómenos globais dominantes. Nestes destacam-se as alterações climáticas e os seus efeitos no funcionamento equilibrado e sustentado das suas paisagens, incluindo as populações que nelas vivem, trabalham, e ou disfrutam.
O primeiro dia e a metade do segundo dia foram dedicados a sessões científicas temáticas. Ao final do primeiro dia realizaram-se duas reuniões separadas, nomeadamente uma reunião da AEEP e a Assembleia Geral da APEP. Seguidamente foi realizada uma breve reunião conjunta para debater linhas futuras de colaboração entre os colegas dos dois países.
A tarde do segundo dia foi dedicada a uma visita de campo à Serra de Monchique (área ardida).
Os temas selecionados para as sessões temáticas foram:
I. A Ecologia da Paisagem no ordenamento e projeto de paisagem Contributos que evidenciassem o papel do projeto e do ordenamento como elemento de articulação entre a Ecologia da Paisagem e os processos de alterações das paisagens, abordando, quer a transferência de conhecimento da ciência para a prática, quer o uso do projeto e do ordenamento como objeto de estudo e de experimentação (monitorização).
II. Gestão integrada das paisagens rurais e conservação da natureza Contribuições da Ecologia da Paisagem aplicada à gestão integrada dos espaços rurais, incluindo a problemática dos incêndios florestais e a conservação da biodiversidade em sistemas socioecológicos. A análise, avaliação, planeamento e intervenção são ferramentas de apoio à gestão da paisagem que contribuem para a compatibilização e integração das alterações resultantes dos processos ecológicos e socioeconómicos.
III. Sustentabilidade e resiliência das paisagens Contributos sobre princípios orientadores e abordagens metodológicas para desenvolver ambientes que promovam a resiliência dos ecossistemas, lugares e paisagens, criando oportunidades de colocar em ação as capacidades intrínsecas dos sistemas vivos potenciadoras da resiliência: biodiversidade, conetividade, multifuncionalidade, redundância e adaptação.
IV. Serviços dos ecossistemas e das paisagens Contributos no âmbito de investigações direcionadas a: modelos de avaliação, estabelecimento de indicadores de serviços dos ecossistemas e das paisagens (SEP); estratégias de operacionalização e de aplicação prática; contribuição dos SEP para o desenvolvimento de políticas públicas de gestão sustentável da paisagem.
V. Padrão-processo e perceção da paisagem Contributos sobre a perceção humana dos padrões espaciais e dos processos espaciais subjacentes, que reflita e capte o lado intangível da paisagem - os sentidos, as emoções e crenças, os desejos, as atitudes e comportamentos, individuais e coletivos. Contributos para um melhor entendimento da relação recíproca entre a estrutura e processos espaciais dominantes nas paisagens e da sua perceção.
Desta forma pretenderam-se abordar temas emergentes na Península Ibérica (assim como em outras regiões do mundo) que, de certa forma, são relativamente mais jovens na sua abordagem, tal como os temas I, IV e V, comparativamente a outros temas mais tradicionais (II e III). As comunicações dos oradores convidados tiveram uma duração de 30 minutos, e as restantes de 15 minutos. Outras contribuições foram apresentadas em forma de posters.
André Botequilha Leitão
O livro de resumos da IV Conferência Ibérica de Ecologia da Paisagem já está publicado. Conference Abstract book is published.
Para aceder, por favor siga o link; To acess, please follow the link
Pode também fazer o download das duas versões originais através:
Also possible to download the two original versions of the book at:
https://www.geracaoconsciente.pt/IV-eco-paisagem/ebook.pdf (versão digital)
https://www.geracaoconsciente.pt/IV-eco-paisagem/print.pdf (versão para impressão)
IV ICLE Iberian Conference of Landscape Ecology 2018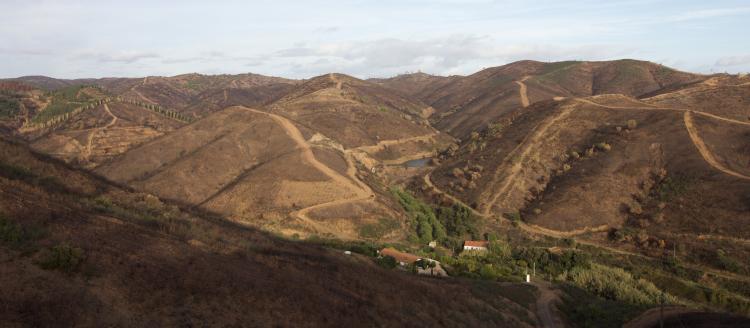 'Landscape as model and infrastructure for societies' adaptation to global change'
November 8-9, 2018, Faro, Portugal
The 4th Iberian Conference on Landscape Ecology (IV ICLE) was held at the Faculty of Sciences and Technologies (FCT), the University of Algarve (www.fct.ualg.pt) in Faro, Portugal, 8-9 November 2018. The theme of the conference was "Landscape as model and infrastructure for societies' adaptation to global change". Nine keynote speakers presented their studies on different landscapes and themes, namely from mountainous areas to lowlands and river and coastal landscapes, from semi-natural areas, to rural, forest and urban environments, from management strategies for the reintroduction of the Iberian Lynx to ecosystems services both in urban and non-urban environments, and from modelling tools to landscape perception and public participation. Circa of 30 presentations were made grouped in 5 themes: (1) Landscape ecology and landscape planning and design, (2) Integrated management of rural landscape and nature conservation, (3) Landscape sustainability and resilience, (4) Landscape and ecosystem services, and (5) Landscape pattern, process and perception (www.apep.pt).
In the afternoon of the 2nd day, a field trip was organised to the Serra of Monchique (Algarve). This Serra is considered both as a hot-spot of Mediterranean biodiversity and worldwide. The aim was to evaluate and discuss planning and management alternatives to prevent forest fires. A very dramatic fire recently occurred in this Serra in late August 2018 and considered as a possible consequence of climate changes in this area of the South of Portugal.
The IV ICLE aimed to continue the Iberian collaboration on Landscape Ecology identifying lines of collaboration between the scientific communities of Portugal and Spain, to consolidate the Portuguese Association of Landscape Ecology (APEP) and to further develop the newly formed Spanish Association of Landscape Ecology (AEEP), as members of the International Association of Landscape Ecology (IALE) and the European Association of Landscape Ecology (IALE-Europe). This conference was jointly organized by the Algarve University (FCT) and the University of Lisbon (Centre for Applied Ecology Prof. Baeta Neves – CEABN / InBIO), APEP and SALE, with the support of IALE Europe. This event was an opportunity to Iberian landscape ecologists to discuss current relevant topics to human society, e.g. climate change adaptation and mitigation, both at ecosystems and landscape levels, pointing to improvements in this scientific area. Simultaneously it was an opportunity to exhibit the most recent findings produced by the Iberian Peninsula scientific and professional communities that apply landscape ecology principles and tools to planning, management, and conservation of the natural and cultural heritage of the Iberian landscapes.
By André Botequilha-Leitão (FCT, Universidade do Algarve)

The Genius Loci is at the centre of landscape research, be it from the perspective of natural or social sciences, the humanities or design disciplines. Genius loci has been defined as the spirit of the place characterising a particular landscape (Pedroli, 2000, 15). Although modern society seems to have lost the ability to observe the landscape as a whole, and be aware of a sense of belonging and identity (Senge et al., 2004), in many places of Europe "people continued to worship the natural characteristics of the landscape as a source of truth, beauty and justice" (Pinto Correia et al., 2018, 6).

"Soulscapes: in search of genius loci" intends to provoke a scientific reflection on how landscape reveals the way people relate to their physical and spiritual environment (Bockemuehl, 1992, 13). Intrigued by the assumption that "every place should have a spirit" (Day, 1990, 107), we invite interested researchers and students to enter into dialogue about the homogenising of the landscape due to which gradually the genii loci are lost (Antrop, 2000, 32).

The landscape is tangible out there and simultaneously a mental reality (Antrop & Van Eetvelde, 2017, 392). Since the soul of a place might be characterised as "the intangible feeling – made up of so many things" (Day,1990), we welcome an exchange of thoughts about these 'things'. This includes the sacrality of landscapes (Verschuuren & Furuta, 2016; Day, 2012, Julian Holloway, 2003), which are animated by a health-giving spirit, as discussed by Day (1990), but also the healing and therapeutic landscapes presented by Relf (2006) or Van Elsen et al. (2014).
The participants are also invited to bring new thoughts and approaches to issues related with cultural landscape services, a topic of relevant research currently in Landscape Ecology.
The conference is structured in four panels, aiming at contemplating the theme from four angles:
On the 18th June 2018, at Faculdade de Ciências Sociais e Humanas, Universidade Nova de Lisboa, Av. de Berna, 26-C, 1069-061 Lisbon, Auditorium 2, Tower B, 3rd Floor:

1. Observing Landscape – towards a holistic Landscape Ecology Education
2. Healing and therapeutic landscapes – opportunities for new multifunctionality
3. Landscapes as places of harmony – how to safeguard landscape quality

On the 19th June 2018, a Field Atelier, following a Goethean approach, will take place at the Interpretation Centre for Landscape/Charneca Observatory, Casal do Gavião do Meio, Ribatejo:

4. Expressing the essence of landscape in Art (Atelier for painting, music, prose, poetry…)

This atelier will be guided by Leonor Malik , Ph. D. in Education Sciences by the Univ. of Grenoble, Art Therapeut, Painter and former Teacher with background on Waldorf Pedagogy. President of Harpa and responsible for the learning program along life focused on the self-development according to an Anthroposophic approach.

The participation in this atelier will be credited to the teachers by the Geography Teachers Association (APG).
Two key-note presentations can already be announced for the 18th of June:

In the Morning: Landscapes in transition – a search for meaning, by Bas Pedroli (Associate Professor, Wageningen University/Land Use Planning Group; Chair of UNISCAPE, Network of Universities for the Implementation of the European Landscape Convention; President of Petrarca, European Academy for the Culture of Landscape).

In the Afternoon: Landscape ecological perspectives on soulscapes by Veerle Van Eetvelde (Associate Professor in Landscape Science, Department of Geography, at Ghent University, Belgium; President of IALE-Europe; Vice President of UNISCAPE, Network of Universities for the Implementation of the European Landscape Convention).
Scientific Committee:
Ana Firmino
Bas Pedroli
Graça Saraiva
Veerle Van Eetvelde
Organizing Committee:
Ana Firmino
Francesca Poggi
Graça Saraiva
Leonor Malik
Luís Quinta-Nova
Nuno Guiomar

Fee: Conference on the 18th of June: 60 Euros (APEP associates and students, 50 Euros). It includes 2 coffee-breaks, lunch and Conference documents.

Atelier in Gavião, Ribatejo (19th June) 30 Euros (APEP associates and students, 25 Euros). It includes transportation to Casal do Gavião on the 19th and lunch box.

After the 31st May 2018, 25% will be surcharged on the above prices.
Payments should be made to the account: PT50001000002159869000140
Please send proof of payment to: Este endereço de email está protegido contra piratas. Necessita ativar o JavaScript para o visualizar.
Selected papers will be published in an e-book with ISBN.
Send your abstracts in English (1 A4) until the 31st May 2018 to:
Este endereço de email está protegido contra piratas. Necessita ativar o JavaScript para o visualizar. (Prof. Ana Firmino)
References:
Antrop, M. (2000) Where are the Genii Loci?, in Pedroli, B., Ed. (2000) Landscape – Our Home, Freies Geistesleben, Stuttgart, p. 29 – 34;
Antrop, M. & V. van Eetvelde (2017) Landscape Perspectives. The Holistic Nature of Landscape. Springer;
Bockemuehl, J. (1992) Awakening to Landscape, Natural Science Section, Independent School of Spiritual Science, The Goetheanum, Dornach, Switzerland;
Day, C. (2012) Spirit and Place, Routledge, London;
Day, C. (1993) Places of the Soul, Architecture and Environmental Design as a Healing Art. Aquarian/Thorsons, London;
Holloway, J. (2003) Spiritual Embodiment and Sacred Rural Landscapes, in Cloke, P., Ed., (2003) Country Visions, Pearson, Prentice Hall, London, p.156 – 177;
Pinto Correia, T., Primdahl, J., & Pedroli, B. (2018). European Landscapes in Transition. Implications for Policy and Practice. Cambridge: Cambridge University Press;
Pedroli, B. (2000) Introduction, in Pedroli, B., Ed. (2000) Landscape – Our Home, Freies Geistesleben, Stuttgart.
Senge, P., Scharmer, C. O., Jaworski, J., & Flowers, B. S. (2004). Presence: Human Purpose, and the Field of the Future. Cambridge, MA: Society for Organizational Learning.
van Elsen, T., Herz, G., Ehlers, H., Schäfer, W., & Merckens, K. (2014). INCLUFAR – Inclusive farming. A new educational approach in social farming. Building Organic Bridges, 2, 517-522.